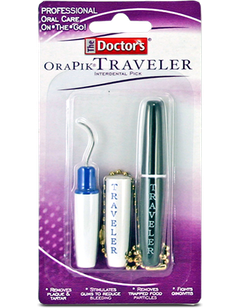 *Use as directed
The Doctor's® Orapik®
The Doctor's® Orapik® and the Orapik® Traveler can help reduce gingivitis as part of a program for good oral hygiene to supplement the regular professional care required for oral health.
Available in two convenient varieties

Directions:
For food removal: Start with OraPik® at your gum line between the teeth. Gently pull the OraPik® away from your gum line to remove impacted food. The point should be at a 90 degree angle to the teeth.
For plaque removal: The curved top of the OraPik® is used for plaque removal. Hold OraPik® so that the top of the curve is flat against the tooth gum line. Gently pull away from the gum toward the biting edge of each tooth. You may prefer an up and down motion.
Important: Clean OraPik® with soap and hot water after use. At least once a week, clean the OraPik® with alcohol and rinse in water. Keep OraPik® covered when not in use.
Keep OraPik® out of reach of children. Your gums may bleed when first using OraPik®. As with brushing and flossing, the incidence of bleeding gums should decrease over time.
Questions? Call us at 1-866-866-6871 between 8 a.m. and 8 p.m. EST.